F(x)tec Pro1 NYC Event Q&A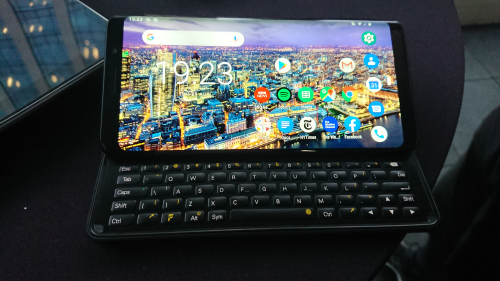 One of the prototypes shown at the NYC eventClick to zoom.
F(x)tec organized an event in NYC showing off their first phone - the Pro1 - on 2019-08-29. Prior to this a list of questions from all the people on the unofficial F(x)tec discord chatroom was put together. Gravewell, Leviathan3k (discord) and xman (from talk.maemo.org, this post in particular) graciously represented the rest of us at the event and found answers to as much of these questions as possible.
Keep in mind that all the answers here relate to pre-production units and are somewhat subject to change and we can not guarantee all of it is correct. Anything to add, comments, complaints? Contact "netman" on above mentioned places or this contact form.
To improve readability some of the answers have been slightly rephrased and typos corrected and although this was kept to a minimum as to present the information unskewed I feel it must be disclosed.
The Answers
What was changed/improved hardware-wise since the hands-on event in germany? Are there units with final hardware?

xman

Mainly software changes since germany, like the camera has changed, but is still being worked on. But functioned pretty good for my quick check.

There was a tiny movement with the german, which was fixed by new york. What's interesting is that they need to redo all the testing each time they update the hardware!

The back cover now has a new texture, which will make it less prone to slippng in your hand.

gtmaster303

Can you elaborate a little more on the texture? Rubber coating, special paint, dimpled metal? What does it remind you of?

xman

I didn't talk much about this since I could feel it, however it seem to be mainly just paint. Chen had the phone from an earlier production and it was like night and day. I was surprised at how well it actually gripped.

One fellow that had the BB passport kinda of wanted a rubberized back. His BB was holding up very well given it age and him dropping it and using it everyday. In my experience though, I'm not a fan of rubberized things ... since the texture will change over time, it will wear off or because sticky and/or discolored.

I would add that I feel like its more grippy than the n900 with out any protective covers.

Gravewell

The newer units have no give between the top and bottom halves of the devie i.e the hinge has no rotational sway now. There is also no light leakage at the bottom keyboard facing edge of the screen which was present on older prototypes such as the one Chen is using as his main phone currently (a June build).

The power button has a metallic yellow liner compared to the red on the older prototype. The new back of the phone is more matte and less slippery, less prone to fingerprints.

There were no final production units at the event - Chen had just come back from a final visit to the China factory.

Chen thinks the manufactured units will be better than the ones we used, i did ask that. The prototype was pretty good for the most part.

Craig

Is it a sandpaper grippy type surface or rubbery sticky?

Gravewell

Soft touch is the outside back of case, not the keyboard itself. Keyboard seems like pretty firm plastic. It has a very good overall feel to it IMO.

Definitely not sandpaper grippy - thing more thin layer of soft touch almost rubberized plastic

mosen (addendum from talk.maemo.org)

Could you disclose the name of the technique used to make the new back surface more grippy?

chenliangchen

We have changed the coating and the oxidising process of metal of the back cover to make it more matte. And that's all. Compared with July units that you have seen, the new back cover certainly being less slippery and captures less fingerprint. Feedback we received compared with July back cover has been mostly positive given it's easier to grip and leaves less things on it.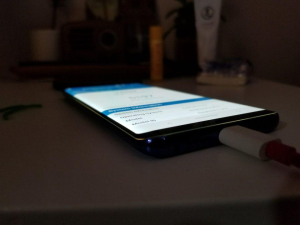 Said light-bleed issue on Elephone U



Is the green dot on the capslock button actually an LED which lights up when capslock is enabled?

xman

Yes. It works just like a laptop.

Gravewell

The green dot seems like it's part of the plastic for this key and wasnt an led as best as i could tell, it did not change based on whether i pressed the caps lock key on the keyboard (this was not checked on all versions of the hardware present).




Is the shift key 'sticky' by default - and other modifer keys too (ctrl/alt etc)?

xman

They are working on sticky shift, so it's a work in progress.

Gravewell

No (as observed with the hardware, did not ask).




Will the keyboard backlight be able to be controlled by software? Will there be an option to turn off the backlight when in a brightly lit area?

xman

Yes. They already have an area in the settings for it.

Additionally on the keyboard each key has its own led. So perhaps in the future a game could have only game play keys lite.

EskeRahn

On keyboards LEDs see this tweet a number of LEDs can be seen, but it is not as extreme as one per key, so even if they are controlled individually (and I doubt that) you would not be able to light individual keys.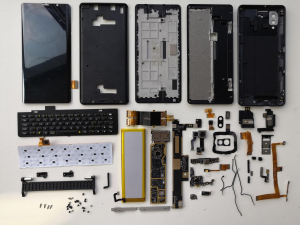 Disassembly photo from tweet



Can I have auto-rotating disabled and be always in portait with keyboard closed and always landscape with keyboard opened?

xman

Yes, there will be a switch in the settings.

Gravewell

Yes. Screen switches to landscape when keyboard is opened and closing it switches to portrait when auto rotate is disabled. Landscape switch is pretty much immediate but switch to portrait took about 1 second to happen.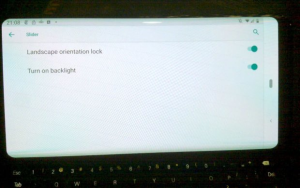 Setting to force landscape mode when open



What functions to the yellow arrow keys provide? Is there something similar to alt-gr?

xman

The yellow arrow key will be the same as the alt similar to n900 blue arrow button. The Fx key is mainly for android, but could possible be used in the future as a custom key for 3rd party OSs.




Does the escape key translate to back?

xman

Esc was made to go back (like a back button for android), but will be changed back to just plain esc. I suggested to make it a setting and they mentioned that could be something they add in the future.

Gravewell

Yes. I was able to exit out of apps to the main screen pressing escape




How is autofocus speed? (time between half-press of camera button and focus lock)

xman

Pretty fast. But everything is faster than my n900.

Gravewell

It's pretty subtle but it focuses pretty fast. I'd say less than a second. Be forewarned that i'm not much of a photo person.




How is the shutter lag? (time between full press of camera button and photo taken, after focus locked)

xman

They are still working on optiumization of the camera. But it seemed pretty fast.

Gravewell

Shutter lag is about 1-2 seconds, no rapid fire pictures with this badboy in its current state. That's the lag beween pushing the button and having photo available for review.

The button doesn't have a great feel for 2 stage press compared to my sony xz premium. Its "mushier", if you will.

Shutter lag I hope is software, but probably closer to 1 second than 2.




I want to see it in some jeans pocket.

xman

I put it into my pocket and it felt good my pants were slim fit. I didn't feel like it was too big. Slid into the pocket very smooth. Another person who has used it for a few weeks said it has not been a problem carrying in there jeans. The back actually made it easier than similar size phone with bumps.




Does the Pro1 support 4k output?

xman

Nope, but its up to the chip maker and not fx. So probably have to check the spec for the chip (which says yes).

Gravewell

I forgot to ask. Leviathan couldnt get his 2k monitor to work but it could be compatibility or other technical issues that got in the way. This definitely needs further testing.




Can you compare the speaker quality with other popular phones like the Pixel 3 and iPhones?

xman

We tried it again a pixel 3/4, and it was about the same. I would the Fx has a bit more on the low side. But they mentioned that this will be fine tuned. To bring the mid into more focus. Which I would say the pixel had brighter treble. But some where in the middle would be ideal from my noise filled outside listening test.

Gravewell

I dont have any experience with pixel or iphone. Compared to my Sony Xperia Xz premium the pro1 has higher volume but lower sound quality.

I'd say quality was medium for speakers and volume was medium to medium low but louder than my XZ premium. Sony makes notoriously quiet phones.




How well does the sound from left and right speaker match?

xman

Didn't get to test the seperation well. But both where working at the same level.




How is the performance of the touchscreen at the edge?

xman

This worked well. Through a dev testing tool. I was able to see the touch point go all the way to all edges ... well until the guesture took over.

Gravewell

Sensitivity of the touch screen trails off about 10-20 pixels before the edge of the screen, maybe 0.5 -1 mm away from the displays edge. I felt that it was pretty good in this regard.

EskeRahn

The touch at the edges is deliberately ignored, as the earlier firmware often gave unwanted screen interactions opening and closing the screen.




Will the screen stay open when the phone is held upside down? (as when using the phone while on your back in bed)

xman

Yes.




What is the state of the earphones and the case promised to pre-orderers?

Gravewell

The cases will come with preorders but they are still doing some final revisions to the case molding. They had a problem with the older designs being hard to flip out the keyboard leading to increased risk of dropping the phone.

Earphones are pretty much in limbo, I wouldnt count on them shipping with preorders.




Changing keyboard layouts (hardware): Is it possible? Will it be supported? Will F(x)tec provide documentation on how to do it yourself?

Gravewell

Changing keyboard is possible, layout seemed less definite due to shifted vs non shifted keys depending on the market. Keypads are cheap to replace, about 1 to 5 dollars was the cost according to chen.

Need to remove 5 screws on back of screen and 2 on the keyboard side of phone under screen to access. Probably will be easy to ifixit.

Older models used some glue that deterioated at 50-60 degrees celcius causing the corner of chens keyboard lip to be a bit out of place - this is fixed for the newer prototypes. Sounds like some gluing would be needed for replacing the keyboard from my understanding.

I doubt individual keys can be changed but the board certainly can from the sounds of things.

Noir

The glue temperature problem was already known and fixed in düsseldorf.




Also would be nice to know whether the keymat and the part it glues to could possibly be available as a complete assembly in future.

Gravewell

Chen seemed willing to do this but it's not like this is set and ready to go by any means.




Will the keyboard backlight be able to be controlled by software? Will there be an option to turn off the backlight when in a brightly lit area?

Gravewell

Yes, backlight control in settings menu. I believe the backlight control is not tied to outdoor brightness levels but it is user controllable in settings.




Is there settings to arbitrarily remap keys by default on the Android that ships with the device?

Gravewell

Not by default but probably customizable according to Chen.




Will they come with screen protectors?

Gravewell

No. Chen did confirm that the Elephone U screen is the same and that those screen protectors should work for this phone.




How well will the device work with a USB-C hub?

Gravewell

Leviathan brought a hub. My phone (Sony Xz premium) was able to charge from his hub but a data connection was not established. Leviathan tried to use an SD card that he knows works with his hub and couldnt see its contents on the phone. This may be hub specific and we determined this to be indeterminate with our limited resources, i.e. maybe that specific hub does not play will with the pro1.

leviathan3k

For clarity, I was not using a flash drive withmy hub. I was using a software-defined radio (rtl-sdr dongle).




Is there support for custom system fonts?

Gravewell

Chen said that this is not included but could likely be done if the phone is rooted.




How many phones are being produced/ordered? How many phones per batch? Will all thus far paid pre-orders be in the first batch?

Gravewell

Chen says "no comment".




What happens with apps that don't like landscape mode? Can we force it somehow?

Gravewell

Instagram said "fuck you" and stayed in portrait mode even with the keyboard pulled out. I'd imagine other portrait only apps would do the same.




How is the call quality?

Gravewell

Call quality is middling. It's perfectly audible and the earpiece has a good volume. There was some audible distortion out the speaker and my friend heard some in his phone from my mic. Perfectly usable IMO though.



Random Tidbits
leviathan3k

Toronto / west-coast events are in the works but no dates are finalized. Soon though.

Gravewell

The phone is smaller in both dimensions than my sony xz premium but is about 50 percent thicker

Phone took 15-20 seconds to boot to usable state. Tap to wake is an option that can be activated in settings (double tapped turned screen on) and phone is splash proof.

Craig

I already heard there were no devices running sfos, android only, but that stilll leaves a possible question the anwer is probably no - did they have a device running lineage?

leviathan3k

There was no Pro1 running lineage at the event. They are continuing to work on lineage and sailfish support, the sailfish units were undergoing testing and he couldn't bring them.

Gravewell

There were 2 devices available for demo plus chen had his personal unit.

mosen

The yellow rimmed button is super nice and the best place to sport CI color imo. Did the units in NY already have the yellow rim?

Gravewell

NY did have yellow rim.

leviathan3k

Chen made a very good point about the slider mechanism... The one on the 950 is more durable than a strict slider.

netman

Because dirt ingress? (Because of less possibility for dirt to get trapped is what i meant.)

leviathan3k

No, just from design. The 950 still had no wobble.

netman

Probably because there's no sliding friction and only rotational.

leviathan3k

Yep.

He mentioned that it was actually significantly more expensive to design. But as a result, is physically rock solid, and should have no actual wobble.
Comments From Attendees
klinglerware
Had to leave early, and I'm sure xman will have more detailed comments. But here are my impressions:

Chen is a really nice guy. What he and his team have been able to accomplish so far as a small shop is impressive. I am pulling for them to succeed especially because of their graciousness.

I didn't actually play around with the device too much, but the hardware feels like a consumer device and not some hobbyist proto. Compared to my Xperia X, it certainly is bigger but not obnoxiously so. Taller, but not that much wider.

Chen confirmed that screen protectors for the Elephone U Pro will work with the f(X). He did add that the team managed to fix the light leakage issues that plagued the Elephone, so no worries there.

source: talk.maemo.org forum post
xman
I have to say Chen and Adrian were extremely nice lovely people! Chen was very patiently as I asked him a seemingly endless amounts of questions, which is amazing when you understand the guy is flying all the time!!! Chen was dripping with passion for the pro1, but also the n950 and n900. He really love this stuff.

I saw so many cool devices. I got to try the gemini, n950, that that crazy one hand keyboard, blackberry passport and my very own zaraus.

They had some yummy food & drinks at a chill outside spot. I didn't get to talk with everyone … I was too focus on the device and the questions. I even show my cardboard sizer mock-up … lol .. I know. Thatful it was bigger than the pro1.

Overall I really liked the device, it was well built, the flip take practice … since it take more focus ands strength then I would have imagined.

source: talk.maemo.org forum post
Thanks
Many thanks to Gravewell, Leviathan3k, xman, klinglerware and everyone who asked questions for bringing us this! And a special thanks to the F(x)tec team for bearing through our questions and bringing us this awesome phone :-).
Some Photos